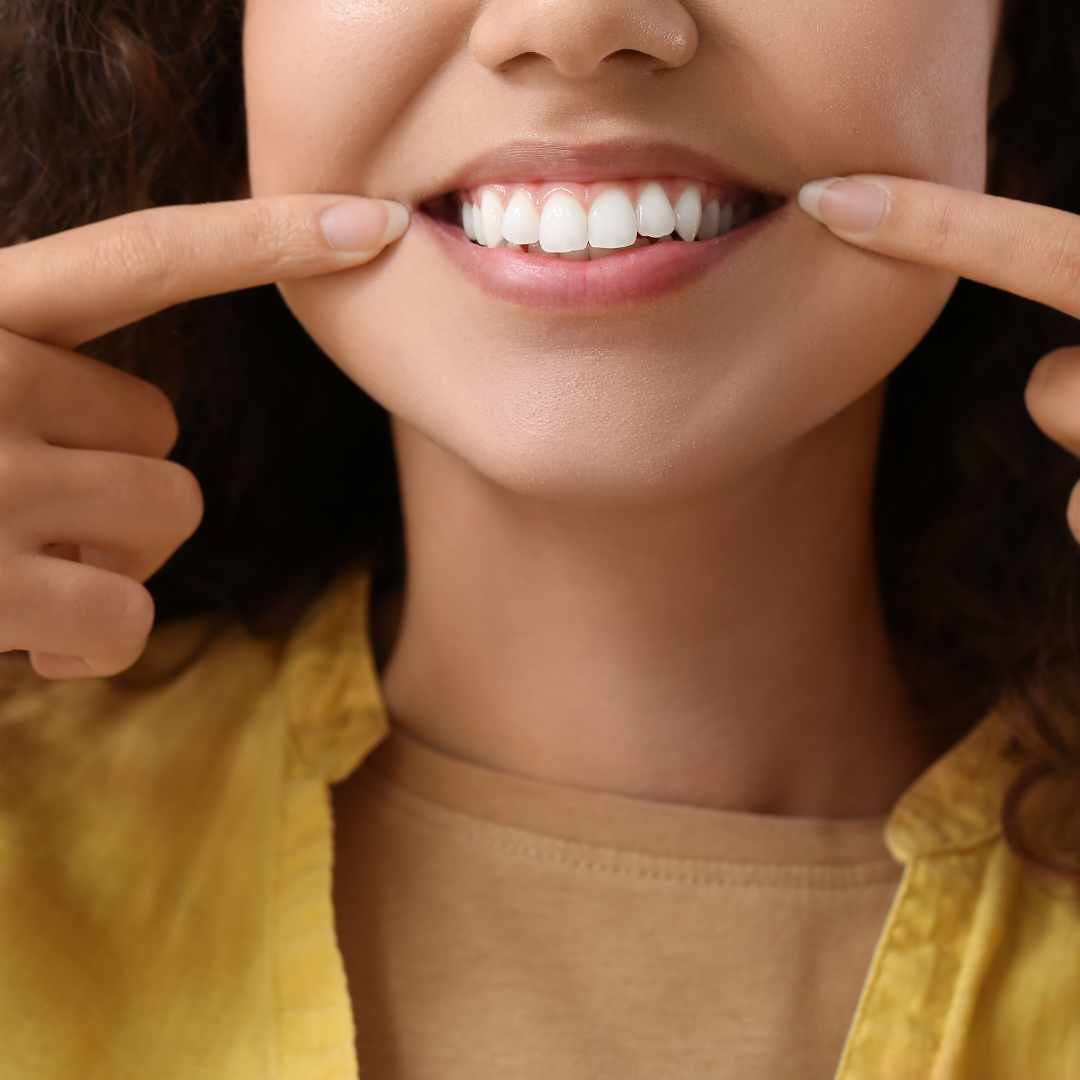 Treat yourself to a brighter smile and improve your life! Teeth whitening is a popular cosmetic dental service that can help restore your smile to a pearly white appearance and boost your confidence! It is a very safe and effective procedure under the supervision of our professional Aurora dental team at Smiles Dental Aurora.
There are several methods of teeth whitening, including professional treatments performed by a dentist, over-the-counter and natural remedies. One of the most common cosmetic procedures our Aurora dentists perform at Smiles Dental Aurora is Teeth Whitening.
The professional teeth whitening formula used by our Aurora dentists contains hydrogen peroxide, which breaks down into water and oxygen molecules when exposed to the air and water in your mouth. The oxygen molecules will attach to stain particles on your teeth to break them down. This formula provides a higher percentage of hydrogen peroxide than OTC products to give you a brighter smile.
While over-the-counter (OTC) products such as whitening toothpaste, dental strips, or whitening kits may seem like more affordable options, they are most likely weaker and therefore require more treatments to achieve the same results. This can cause your teeth to become more sensitive and uncomfortable.
We do not recommend using the OTC liquid trays for whitening teeth as they contain hydrogen peroxide in liquid or gel form, which can be harmful if swallowed. Additionally, the tray is not customized to fit your teeth, which may cause the whitening agent to touch your gums.
We offer in-office laser whitening, which is the best and fastest way to whiten teeth. In this treatment, our Aurora dentist applies a concentrated whitening agent under strict control. This treatment provides quick results in just 3-15 minutes. After the treatment, our Aurora dentist provides you with at-home trays for touch-ups and maintenance as needed.
It's important to note that teeth whitening may not be appropriate for everyone, particularly those with sensitive teeth or existing dental problems. It's always best to consult with our Aurora dentist before starting any teeth whitening regimen.
Request an appointment at Smiles Dental Aurora today! Together, we can examine your teeth and compare treatments to determine which solution will be most effective for you.
Zoom Whitening in Aurora
In-office Whitening - Philips Zoom!

In-office teeth whitening involves a one-hour procedure at our Smiles Dental Aurora. Our Aurora dentist will apply a hydrogen peroxide gel to the teeth and use a special Zoom light to activate the gel. This process can whiten your teeth by several shades in just one session. In-office Zoom Whitening! Teeth whitening is a popular option for those who want quick and noticeable results.
The light helps to break down the hydrogen peroxide gel, allowing it to penetrate the tooth enamel and remove stains and discoloration. The gel is applied for three to four 15-minute intervals during the treatment, and our Aurora dentist will check the progress of the whitening after each interval.
After the Zoom teeth whitening treatment is complete, our Aurora dentist will remove the gel and the protective covering from your teeth. You should notice an immediate improvement in the whiteness of your teeth, with the final results appearing a few days after the treatment. Your dentist will need to assess your teeth to determine if you are a good candidate for the treatment.
Whitening at Home - Philips Zoom DayWhite and NiteWhite
Teeth Whitening in Smiles Dental Aurora Philips Zoom DayWhite and NiteWhite offer superior at-home whitening for a visibly whiter smile in one day and your whitest healthiest smile in seven to fourteen days. Philips DayWhite and NiteWhite are the only at-home whitening products to contain amorphous calcium phosphate (ACP), which is clinically proven to reduce sensitivity, protect enamel and help improve the luster and smoothness of the teeth.
Zoom at-home whitening products are completely customizable. Our Aurora dentist creates a custom tray made just for you and can tailor the formula concentration and wear times to your sensitivity and lifestyle.
If you have any questions about teeth whitening or the options we provide, please send us a question or ask Dr. Shasha or one of our Aurora team members on your next visit.